Ellis licenses new IT program to improve patient flow
Monday, March 21, 2016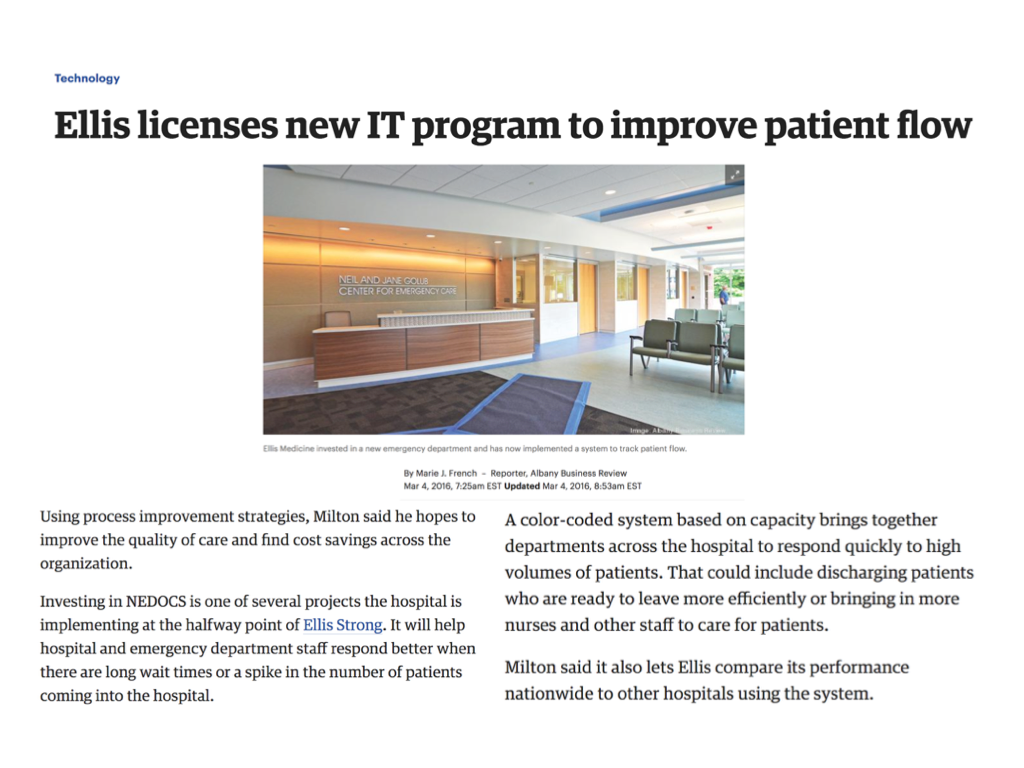 Ellis Medicine has implemented a new IT component to monitor and manage patient volume at the Schenectady hospital system.
The third-largest health care provider in the region implemented the National Emergency Department Overcrowding Scale, a score that helps hospitals respond to surges in the number of patients, in February. NEDOCS calculates a volume level based on the number of patients who have been admitted, the wait times at the emergency department, patient discharges and other data.
"We're in a much better position," Ellis CEO Paul Milton said in an interview. "Our patient flow has gotten better and I expect it will improve even more."
Using process improvement strategies, Milton said he hopes to improve the quality of care and find cost savings across the organization.
Investing in NEDOCS is one of several projects the hospital is implementing at the halfway point of Ellis Strong. It will help hospital and emergency department staff respond better when there are long wait times or a spike in the number of patients coming into the hospital.
A color-coded system based on capacity brings together departments across the hospital to respond quickly to high volumes of patients. That could include discharging patients who are ready to leave more efficiently or bringing in more nurses and other staff to care for patients.
Milton said it also lets Ellis compare its performance nationwide to other hospitals using the system.
https://www.bizjournals.com/albany/news/2016/03/04/ellis-licenses-new-it-program-to-improve-patient.html