NEDOCS®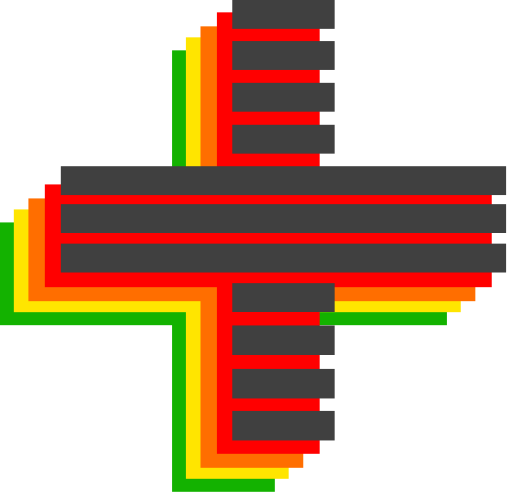 COMPANY PROFILE
[ knee-dawks ]
Operated by NEDOCS, LLC A California LLC, based in Los Angeles.

The National Emergency Department Overcrowding Score (NEDOCS) is the standard measure of patient volume and throughput in hospitals. This metric is critical to improving patient flow and operating efficiency.

NEDOCS is a tracking and communication tool for this metric and related surge management. Hospitals use it to preemptively manage emergency department operations, communicate emergencies, and coordinate actions.

NEDOCS is a registered trademark of NEDOCS LLC.
WAIT TIMES
NEDOCS tracks two key patient wait time indicators at hospitals: ED Door-Bed wait time, and ED Admission time.

NEDOCS collects these data from subscribing hospitals who track NEDOCS. Since 2010 NEDOCS has been maintaining a repository which now includes nearly 1 million scores from over 2000 hospitals globally. Hospitals track scores on a periodic basis. Data are entered manually, or through an automated process.
BENCHMARK DATA
NEDOCS makes available benchmark data from its hospitals. Statistics from the following link may be used and cited.
NEDOCS Statistics
RELATED PRESS

Cries for help from INSIDE A&E by Niamh Griffin
The Irish Mail on Sunday April 19, 2015 Page 10,11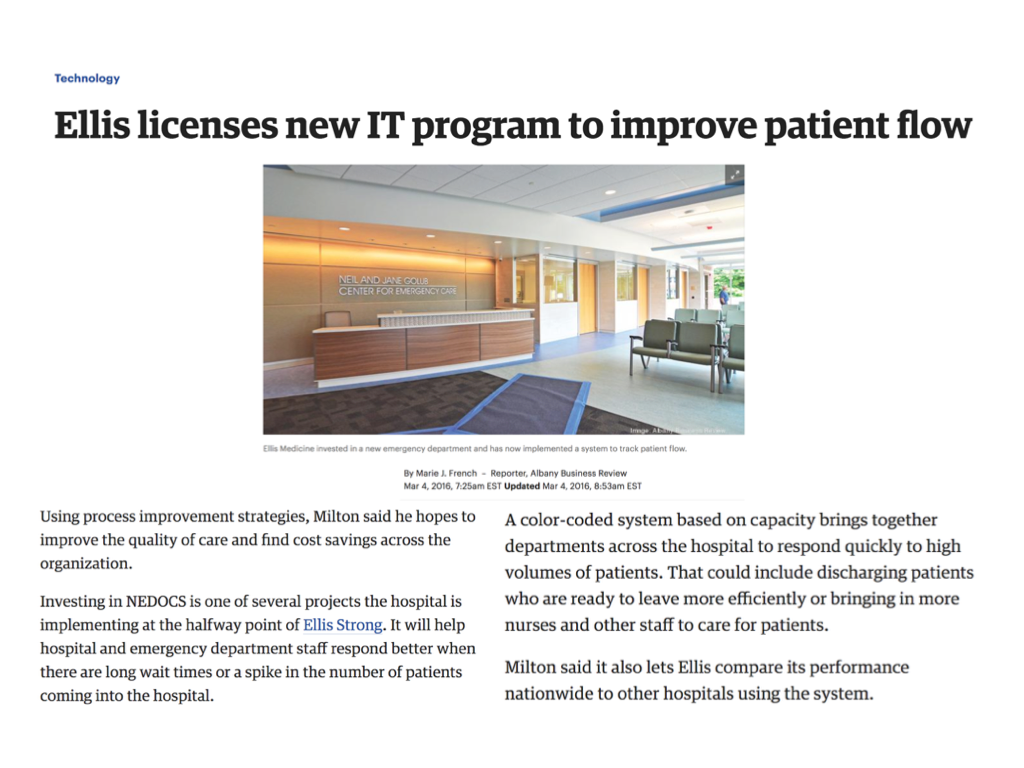 Ellis medicine licenses NEDOCS to improve patient flow by Marie J. French
Albany Business Review on March 4, 2016
HISTORY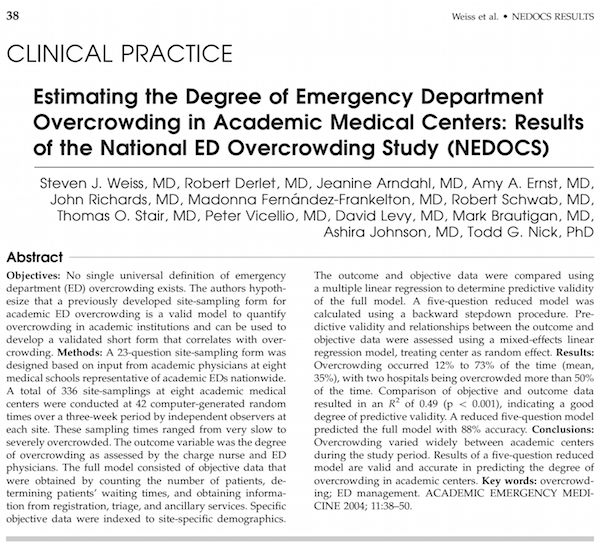 2004 - NEDOCS Study is published in Clinical Practice by Steven J. Weiss, MD et al.
ACAD EMERG MED January 2004, Vol. 11, No. 1 www.aemj.org.
NEDOCS Study

2007 - USC publishes surge plan based on NEDOCS.

2010 - NEDOCS.org and other software tools become available. NEDOCS becomes viral.
NEDOCS has been used by hospitals of various types since then.
MEDIA
The following icons and media may be used in reference to NEDOCS.org.