NEDOCS®

THE STANDARD FOR HOSPITALS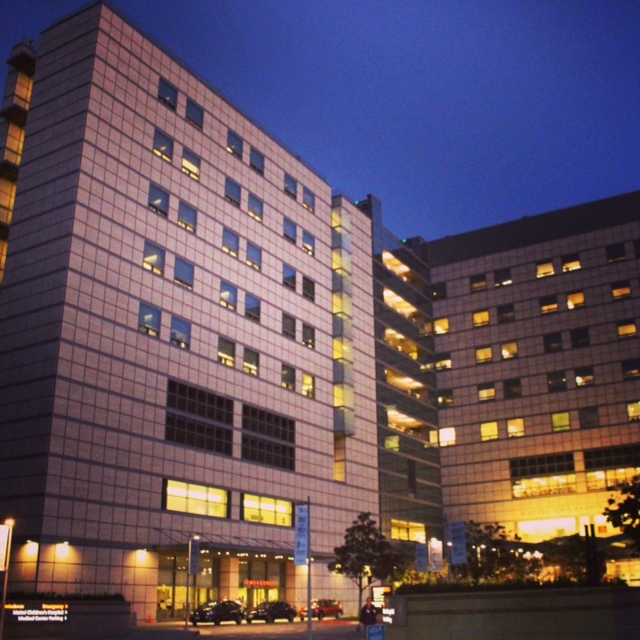 COMPANY PROFILE
[ knee-dawks ]
Operated by NEDOCS, LLC A California LLC, based in Los Angeles.

The National Emergency Department Overcrowding Score (NEDOCS) is the standard measure of patient volume and throughput in hospitals. This metric is critical to improving patient flow and operating efficiency.

NEDOCS is a tracking and communication tool for this metric and related surge management. Hospitals use it to preemptively manage emergency department operations, communicate emergencies, and coordinate actions.

We're making better hospital software.
Wait Times
NEDOCS tracks two key patient wait time indicators at hospitals: ED Door-Bed wait time, and ED Admission time.

NEDOCS collects these data from subscribing hospitals who track NEDOCS. Since 2010 NEDOCS has been maintaining a repository which now includes nearly 1 million scores from over 2000 hospitals globally. Hospitals track scores on a periodic basis. Data are entered manually, or through an automated process.
HISTORY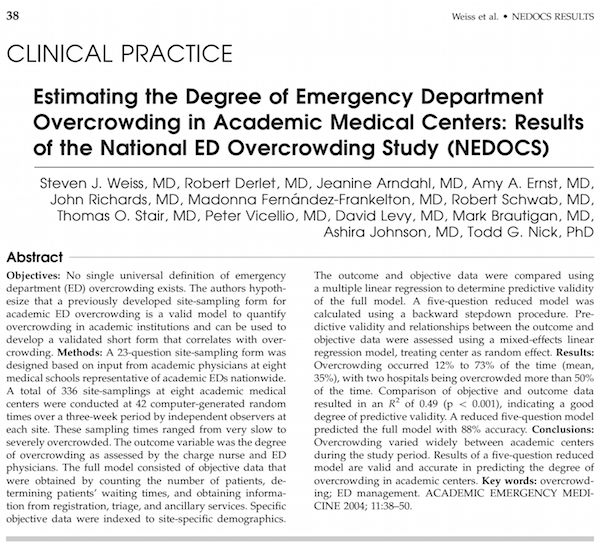 2004 - NEDOCS Study is published in Clinical Practice by Steven J. Weiss, MD et al. ACAD EMERG MED d January 2004, Vol. 11, No. 1 d www.aemj.org.




2007 - USC publishes surge plan based on NEDOCS.




2008 - Bharat Bhardwaj registers NEDOCS.org, NEDOCSCalculator.com, and SurgeMinder.com to promote the concept of NEDOCS. Bharat Bhardwaj creates the NEDOCS icon - a plus sign with bottom leg made up of green, yellow, and orange colors with the rest of the + sign in red placed on a black background.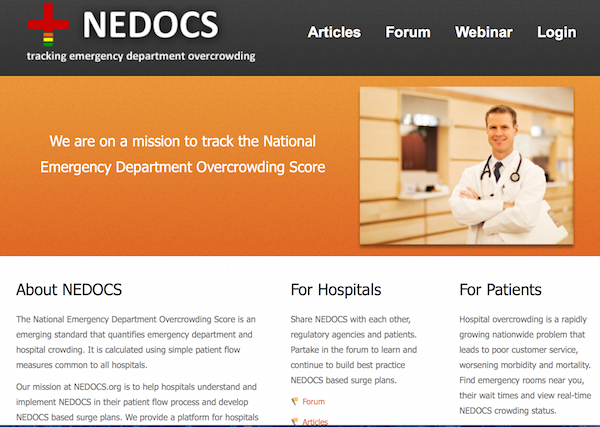 2009 - NEDOCS.org is launched as a wiki. NEDOCSCalculator.com is launched as 6-level NEDOCS free calculator. SurgeMinder.com is launched as 5-level NEDOCS tracker enterprise application.

2010 - NEDOCS.org and other two websties become a key tool for hundreds of hospitals to learn about, and track NEDOCS. Santosoft LLC is formed to produce and operate software on all above services, and produce and market interfacing software and analytics engine. NEDOCS.org becomes a forum, and news blog.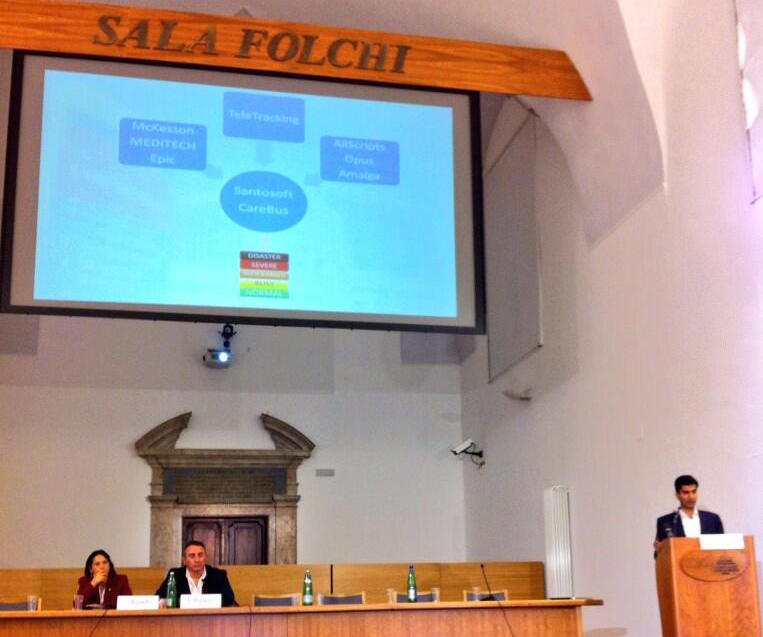 2011 - NEDOCS LLC visits Italy at national ED congress. SurgeMinder.com, and NEDOCSCalculator.com are visited by 500 hospitals. NEDOCS database grows to 100,000 records.

2012 - Hospitals ranging from Korea, to Colombia begin experimenting with NEDOCS. SurgeMinder.com sunsets and transforms into the NEDOCS app. NEDOCSCalculator.com, forum and wiki are sunsetted.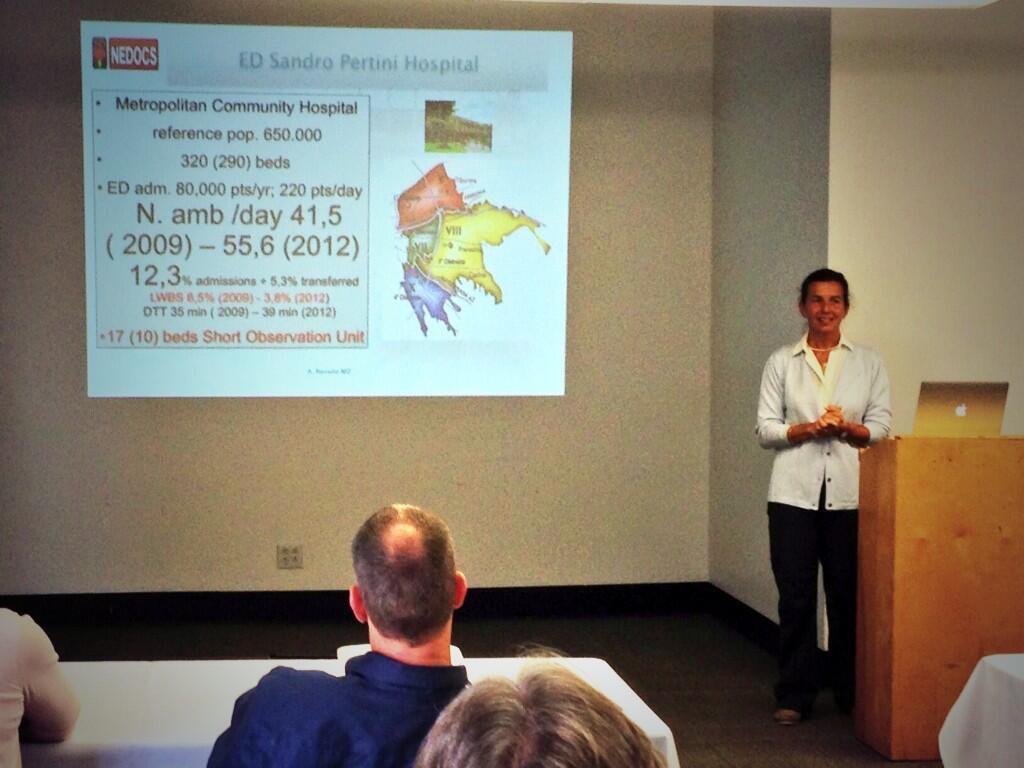 2013 - We launch the iPhone app at our first ever user group summit in San Francisco. We have 10 users attend from all over the country - with keynote presentation from the Italian emergency Dr. Allessandra Revello with an update on Italian NEDOCS.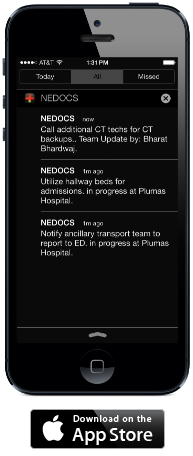 2014 - Santosoft LLC becomes NEDOCS LLC. NEDOCS database grows to 500,000 records.

2015 - NEDOCS publishes emergency department wait time, and admit time statistics from data pool. NEDOCS word mark published on the supplemental register May 12th, 2015. IC 009. US 021 023 026 036 038. G & S: Communications software for connecting healthcare personnel in managing patient flow. FIRST USE: 20080801. FIRST USE IN COMMERCE: 20080801.

2016 - NEDOCS publishes The Badge - a tool to communicate key incidents and emergencies.
Copyright © 2008-2018 NEDOCS, LLC of California. The NEDOCS logo, icon, all definitions and titles are the creative work, and NEDOCS is a registered mark of NEDOCS LLC. These are official NEDOCS media with license to re-publish given reference to NEDOCS.org.